Call For Papers - Courts & Politics Research Group 2nd Annual Spring Workshop
Due Date: March 31st
The Courts and Politics Research Group invites the submission of abstracts for its second annual Spring Workshop, to be held at the University of Guelph on May 5, 2017.
The goal of the workshop is to bring together faculty and graduate students who study in the field of courts and politics to present scholarship or works-in-progress, (including MRP/thesis chapters) to a group of individuals with shared interests and expertise, in a relaxed and friendly setting. There is no specific theme for the workshop; instead we invite scholars to present work that falls into the broad field of courts and politics, constitutionalism, and law and politics. We encourage the submission of scholarship that is in early stages or is unpublished.
Scholars that wish to attend, but do not want to present a paper are asked to RSVP to Kate Puddister or Emmett Macfarlane, so we have an idea of the number of participants.
Those interested in presenting work are asked to send paper titles and short abstracts (no more than 200 words) or a brief outline of their proposed presentation to Kate Puddister (kpuddist@uoguelph.ca) and Emmett Macfarlane (courtsandpolitics@gmail.com) workshop organizers.
We hope you can join us in Guelph for what promises to be an interesting and productive workshop.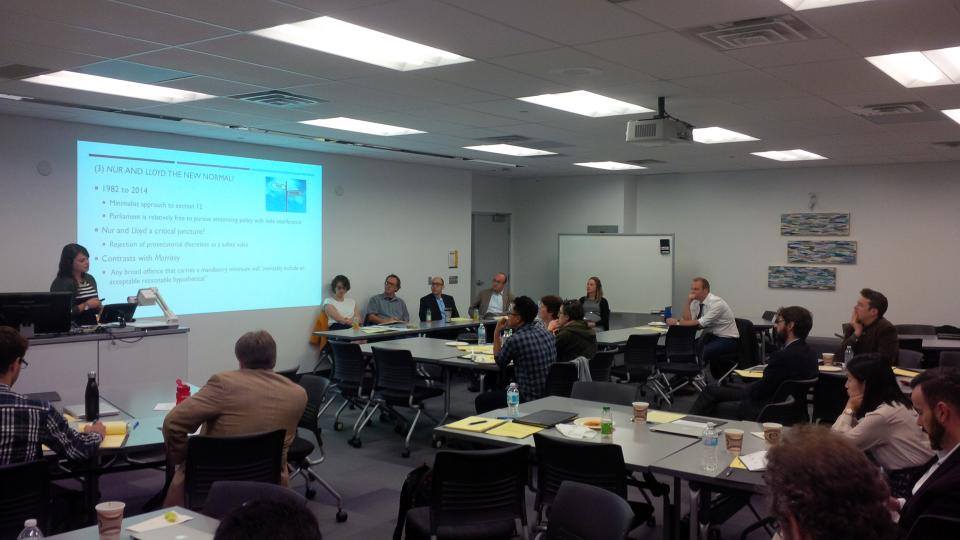 Courts and the Constitution: Policy Impact
University of Waterloo (Stratford Campus)
October 7, 2016
8:30am – Greetings & Refreshments
9:00am – Introductory Remarks
9:15am-10:45am – Panel 1 – Theories of Policy Change and Their Application
Minh Do (University of Toronto) "The Promise and Pitfalls of Public Policy Approaches to Understanding the Influence of the Duty to Consult"
Dave Snow (University of Guelph) and Kate Puddister (University of Guelph) "Closing a Door but Opening a Policy Window: Legislating Assisted Dying in Canada"
Marc Zanoni (University of Guelph) "The Supreme Court of Canada, Punctuated Equilibrium, and Judicial Remedies"
10:45am-11:00am - Break
11:00am-12:30pm – Panel 2 – Policy Issues #1
Erin Crandall (Acadia University) and Andrea Lawlor (King's University College, Western University) "Third party policy and electoral participation after Harper v. Canada: A triumph of egalitarianism?"
Dagmar Soennecken (York University) and Chris Anderson (Wilfrid Laurier University) "Taking the Harper government's refugee policy to court"
Kate Puddister (University of Guelph) "Protecting Against Cruel and Unusual Punishment: Section 12 of the Charter and Mandatory Minimum Sentences"
Troy Riddell (University of Guelph) and Dennis Baker (University of Guelph) "The Charter Beat: The Impact of Rights Decisions on Canadian Policing"
12:30pm-1:30pm – LUNCH (Courtesy funding from the Faculty of Arts, University of Waterloo)
1:30pm-3:00pm – Panel 3 – Policy Issues #2
Kyle Kirkup (University of Ottawa) "After Marriage Equality: Courting Queer and Trans Rights"
Michael McCrossan (University of New Brunswick) "Contrasting Theories of Reconciliation, Crown Sovereignty, and Territoriality: Assessing the Impact of Section 35 for Aboriginal Rights"
Eleni Nicolaides (Brock University) and Matthew Hennigar (Brock University) "Carter Conflicts"
3:00pm-3:15pm – Break
3:15pm-4:45pm – Panel 4 – Institutional Contexts
Richard Albert (Boston College) "Quasi-Constitutional Amendments"
Kate Glover (Western University) "Judicial Advisory Opinions & Constrains on Policy Implementation"
Janet Hiebert (Queen's University) "The Charter, Policy, and Political Judgment"
Robert Schertzer (University of Toronto) "Collaborative Federalism and the Role of the Supreme Court of Canada"
4:45pm – Concluding remarks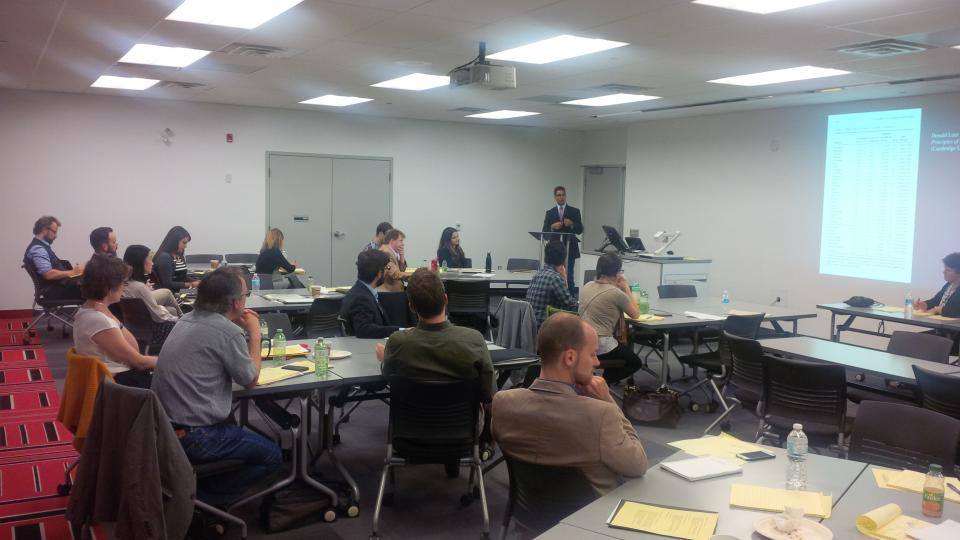 Courts & Politics Research Group Spring Workshop
Thursday, May 5th, 2016
University of Guelph
Room: MacKinnon 313
8:45 am – Welcome
Emmett Macfarlane, University of Waterloo
Kate Puddister, University of Guelph
9:00 am – 10:30 am: Institutional Examinations of Courts
Colton Fehr, University of Toronto: Dismantling the Dialogue (or Perhaps Politics is Such a Bad Thing After All)
Marc Zanoni, University of Guelph: The Supreme Court of Canada, Punctuated Equilibrium, and Judicial Remedies
Jean-Christophe Bédard Rubin, University of Toronto: Assessing the Impact of Unilingualism at the Supreme Court of Canada
Kate Puddister, University of Guelph: A Question They Can't Refuse? Canadian Reference Questions and the Separation of Powers
Discussant: Dennis Baker, University of Guelph
10:45 am – 12:15 pm: Courts and Criminal Justice
Dennis Baker and Troy Riddell, University of Guelph: Police Implementation of Charter decisions: Preliminary Results
Evangeline Kroon, University of Guelph: Victim Credibility on Trial: The 'Perfect Victim' Stereotype in Cases of Sexual Assault
Remy Sansanwal, Western University: The Reform of Canadian Prostitution Law: The Oldest Oppression v. the Oldest Profession and Ongoing Deliberation
Discussant: Kate Puddister, University of Guelph
12:15 pm – 1 pm: Lunch and Keynote
Lunch is provided thanks to a generous donation by the Political Science Department, University of Guelph
Léonid Sirota, New York University: Originalist Reasoning in Canadian Constitutional Jurisprudence
1:00 pm – 2:30 pm: Courts in a Comparative Perspective
Karry-Ann Cornwall, University of Guelph: Tunisian Constitution-Making: The Preservation of Secularism
Nicholas Fraser, University of Toronto: Expanding Rights or Protecting Turf? Constitutional Courts and the Politics of Refugee Status Determination in the United Kingdom
Faisal Kamal, University of Toronto: Constitutional (Re)engineering and Divided Staatvolk in Multinational States
Discussant: Troy Riddell, University of Guelph
2:45 pm – 4:15 pm: Courts and the Charter of Rights and Freedoms
Emmett Macfarlane, University of Waterloo: Positive Rights and Section 15: Addressing a Dilemma
Gwyneth Bergman, University of Waterloo: Manifesting Belief in Canadian Law: What is 'Freedom of Conscience'?
Matthew Hennigar, Brock University: 'Executive-Judicial Dialogues' About Reasonableness Under Section 1
Discussant: Dave Snow, University of Guelph
4:30 pm – Closing Remarks
Ian Greene, York University
Emmett Macfarlane, University of Waterloo